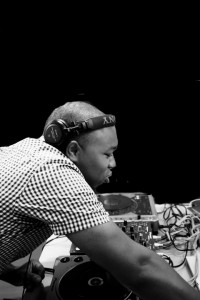 KUATO (Mike Jones) is a NYC area DJ and producer. He is a resident DJ for Scratch Events, where corporate clients, ranging from GQ to Real Simple, often request him to bring something fresh and innovative to their events. KUATO has shared the stage with the legendary Patti Smith and DJed events alongside celebrity hosts Justin Timberlake, Tim Gunn, and Nigel Barker.
KUATO's sets are known for taking listeners on high-energy rides through eclectic genres ranging from South African House (Kwaito) to old school classics. While living in London in 2007, KUATO had the opportunity to perform at legendary venues such as Bar Music Hall, Dogstar, Sketch, and the Institute of Contemporary Arts. Since his return to NYC, KUATO has been performing at an array of venues including Cloak, CV, Greenhouse, Mr. West, and Pianos. He is also a current resident at Barcelona (New Haven, CT).
In addition to his performance career, KUATO is the co-founder and co-owner of Party Guy Records. The label has received significant global support, with tracks being played on Rinse FM, Sub FM, KCRW, and BBC Radio 1XTRA.